Our Story.
In December 2016, we purchased the old Hutchins dairy farm. The barn was built in 1904, the farmhouse completed in 1906.
Passing by on Route 27, we were drawn to the "big sky" behind the farmhouse & barn. We drove in one day and were stunned by the view - acres of wildflower meadows, old hayfields, bird marsh habitats, and wooded hills. 35 acres – and a steep southeast facing hill – perfect for a vineyard!
Beginning in January 2017, we began a 6-month renovation to turn the gutted farmhouse into our dream: a gallery to celebrate the art of Maine's finest makers.
Our artists are people we know and love – people who are deeply rooted in Maine, who work every day with their hands to gain practice in the age-old tradition of craft, and who understand the value of art in connecting our communities.
Over 150 works of original fine art, including maritime, landscape & harbor scenes, by award-winning Maine artist Brad Betts, ASMA.
Take your time wandering… there are 8 rooms on two floors of the farmhouse filled with paintings, hand-blown glass work, pottery, wood wares, and sculptures.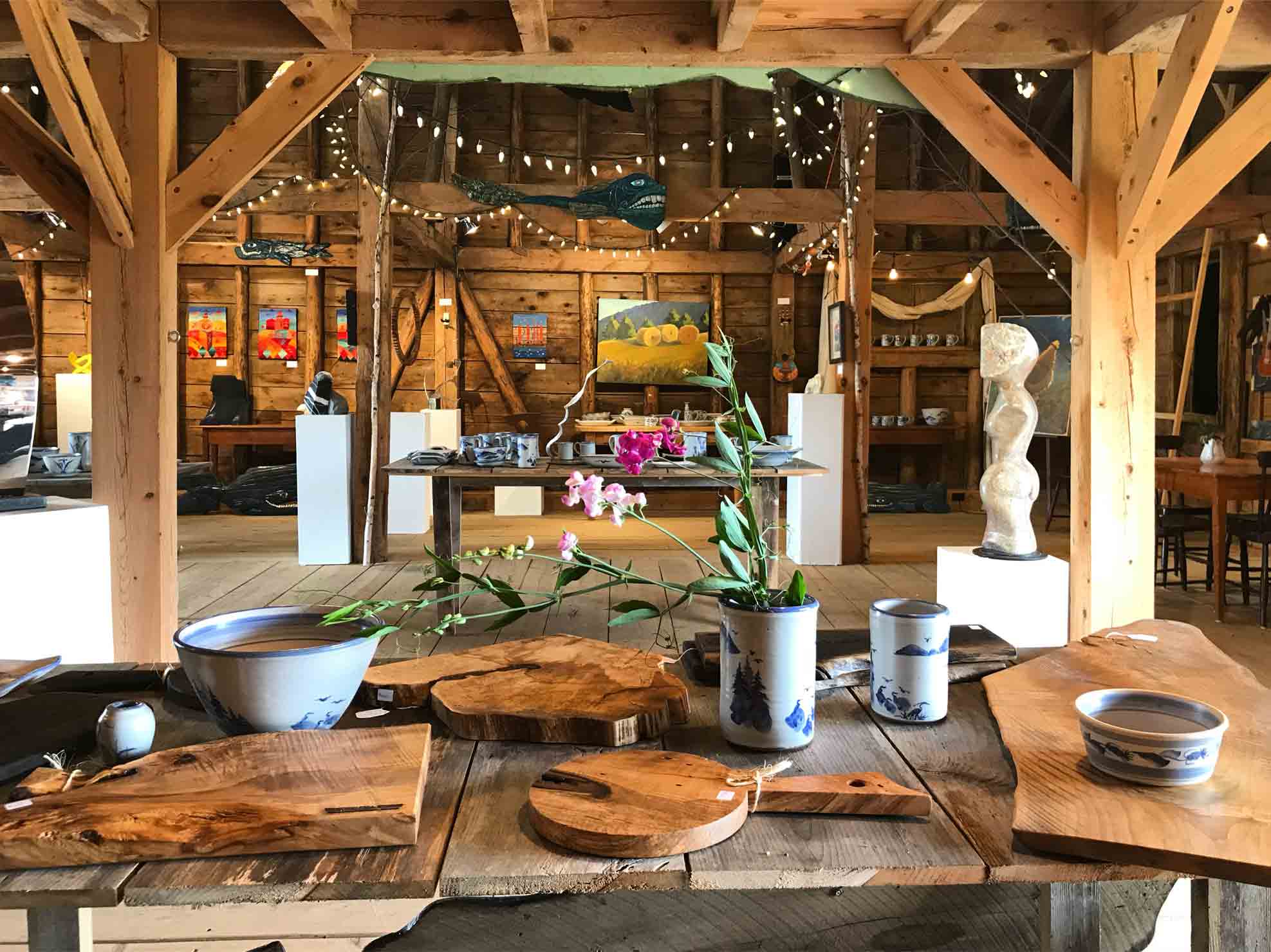 Colorful hand-woven tapestries, metal, glass and stone sculptures, Gull Rock Pottery and other hand-crafted goods set against the warm backdrop of the 1904 barn. Occasionally, a music venue. Or simply a place to relax, pick up a guitar, and make music of your own.
Underway!
When our small vineyard in East Boothbay reached its 5th summer and exploded with grapes, we knew we needed more land. Our first 60 vines are planted and more vines are on the way !
If you dream of wine and touching the earth, let us know – we'd love your help.
After our first winter, we felt like we were discovering a secret garden as spring unfurled a host of unique flowering trees, shrubs and perennials. It is a slow labor of love, but we are doing our best to restore the old gardens and add our own touches. In addition to a new cut flower garden, 2018 brought 1,000 daylilies gracing our front entrance (thanks to the generosity of daylily hybridist Don Cellar from Boothbay Harbor), over 1,000 sunflowers planted on the lower hill, and a land art installation of one million red poppies, winding like a river through the lower field. In 2019, we will continue to nurture and grow the gardens as a backdrop to our ever-growing collection of outdoor sculpture offerings.
Throughout the year, we host events to celebrate Maine creatives in all media: art, music and film.
Follow us on Instagram or Facebook to stay in touch with our event schedule:
Thank you so much for visiting Down East Gallery! Relax in the barn, take in the view, walk the trails, and most of all, celebrate the art, and the many hours of patient time and talent invested by Maine's finest artists.